I'm in Christchurch after a not-too-bad trip. The most unpleasant part was having to go through TSA security twice at LAX because I forgot that I'd filled my water bottle, so instead of having time to stretch my shoulder, I got to the gate a few minutes before boarding. Once I got on the plane I found I was seated in an exit row so I had space to stretch out and even managed to get in 6 hours of sleep during the 15 hour flight!
My flight from Sydney to Christchurch was delayed a couple of hours, but I was mainly thankful that it was the last flight being delayed since a two hour delay on an earlier flight would have caused major complications.
I took a shuttle from the airport to my hotel and was the last passenger to be dropped off so I ended up talking to the driver about the situation in Christchurch. There was a major earthquake here in February 2011 which devastated the town and even knocked down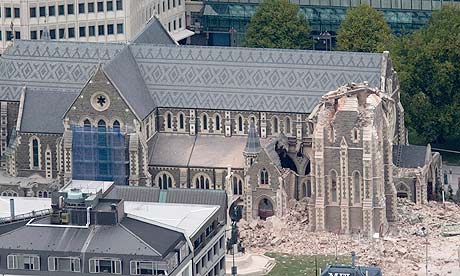 the spire on the titular 150 year old church. Many buildings were condemned and had to be torn down, and the infrastructure (sewers, power, etc.) also must be rebuilt. Insurance companies went bankrupt after the quake, vastly complicating the town's recovery, and new buildings will need to be more earthquake-proof and will be more expensive to insure. The driver said around 12,000 people have left the town, but the worst seems to be over and new blood is slowly moving back.
One of the pleasures of going to the Pole was always visiting the vibrant Christchurch area and the current situation is a little sad, so I really hope for them that things return to normal.